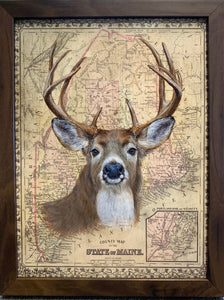 White Tail Deer on Maine Map
White Tail Deer on Maine Map is a beautifully rendered original painting by Patty Pendergast. This piece captures the majesty of white tail deer native to the Maine landscape. An expertly detailed art piece, it showcases the unique beauty of this species and is an essential addition to any nature-lover's home.
This piece measures approximately 10" X 12" and is framed in a rustic wooden frame by the artist as shown.